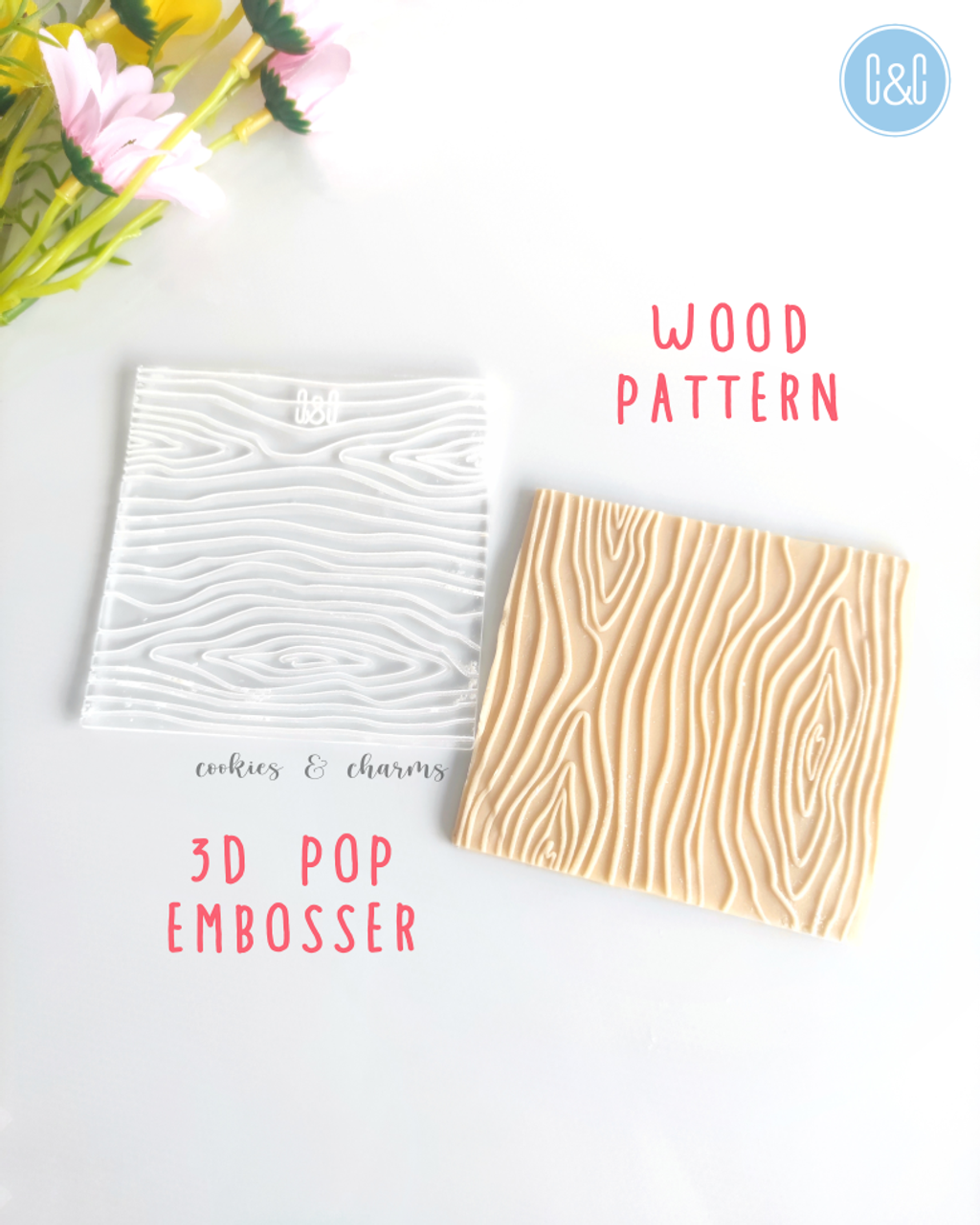 Wood Pattern 3D Pop Embosser | Texture Mat Raised Stamp
Description
Wood Pattern 3D Pop Embosser allows you to create detailed raised pattern on your fondant cookie, cake or polymer clay slab!
Pair it with our Font Embossers to create custom names or message perfect for any occasions.

3D Pop Embosser gives a raised 3D effect on fondants or clay, which is the reverse of Embosser.
They are specifically designed to be used in fondant, modelling chocolate, gum paste and polymer clay.
Made with food grade plastic and dishwasher safe you can be confident you're investing in a tool that last a lifetime.
3D Pop Embosser does not comes with handle to ease in applying pressure with rolling pin.
3D Pop Embosser colour may vary from listing, depending on availability.
3D Pop Embosser are made to order.
We will do our best to ship all orders as quickly as possible!
Size
Wood Pattern 3D Pop Embosser
9 cm x 9 cm (3.5 inch x 3.5 inch)

Talk to us if you need a different size or design!
Use
It's so easy to use, even kids can get involved!
Tip: Use recipes free from raising agent to get the best looking cookies!
1. Roll your Fondant / clay to around 3mm thick (get a custom pin guide from us).
2. Place the embosser on your dough and press evenly. For 3D Pop Embossers you can press down better by rolling with your rolling pin
3. Lightly lift the embosser from the dough.
If your cookie dough sticks to the embossers, dust some flour on your dough before cutting or dip your cutter into flour before using it on the dough. This will help releasing the embossers from the dough. This helps a lot with embossers with very fine detailed.
Care
Dishwasher safe, temperature below 70°C / 158°F.
Wash gently with a mini brush, or toothpick to remove any dough stuck in the sharp/small edges.
While our embossers are designed to be durable and strong, any excessive force or apply horizontal pressure will damage the product's integrity.
Thus, please handle it with care to ensure the longevity of the embossers.

Do Not place embossers in oven.
FAQ
How long do you take to process my order?
Our tools are made to order and can take 2-4 days to ship. We will do our best to ship all orders as quickly as possible!
Please talk to us before hand if you have a specific dateline, we will let you know if we can accommodate your schedule.

How long and how much does it take to deliver my order?
We ship worldwide. Please refer to our shipping policy here.

Do you offer free shipping?
Yes, we do!
It would depend on your location, please refer to our rewards program here

Can I pick up my orders or arrange my own delivery?
Yes, you can!
Please talk to us and arrange before ordering thou.
Can I combine orders?
Combined shipping available. If you purchase multiple items in a single purchase, you will pay shipping just once.
If you have put through an order that hasn't been sent yet and you would like to add something, please message us and we will organize combined shipping if possible.


Whats the difference between cookie cutters and clay cutters?
Our Cookie Cutters have a sturdier wall and a sharp edge (0.4mm), our cookie cutters are usually 15mm tall.
Cookie Cutters are more suitable for for cookie dough, cake, modelling chocolate and cheese.

Our Clay cutter have a thinner wall and sharper edge (0.3mm-0.4mm), our clay cutters are usually 8mm tall,
Clay Cutters are more suitable for polymer clay making, fondant and gum paste.
I have a discount code, but I can't use it?
Make sure you are logged in to your account upon checkout.
Login to your account by clicking on the login button ( or click here)
You can sign up here if you are new!
Talk to us here, if you still have problems.
I got charged taxes, do I have to pay for it?
Please note that all applicable taxes, customs or import duties at the destination country are the responsibility of the buyer and must be paid by the buyer in order for the package to be released by custom.
Help, I've got a different question!
Don't worry, ask us over here and we'll get back to you as soon as we can.
Connect
We LOVE to see the uses you make with your new tools. Please feel free to share your pictures and tag us on the social.
Find us on facebook and instagram @cookiesandcharms for features from other creators, updates and maybe discount codes (hint).
Please feel free to message us with any suggestion or comment. We love to hear from you!