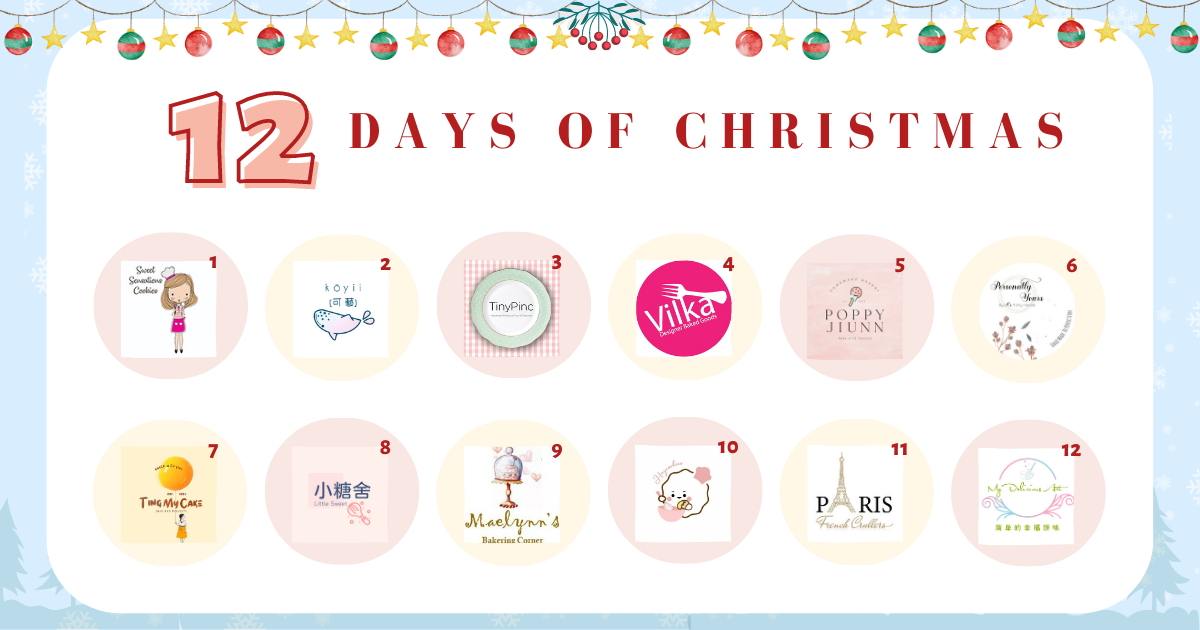 Counting down to Christmas and we will be featuring 12 AMAZING local Malaysia creators (bakers and crafters) to make your gift shopping experience easier .
From delicious bakes to intricate handmade accessories for your friends, colleagues, family or yourself, we got you covered!
1. Christms Royal Icing Cookie Workshop
by Sweet Sensation Cookies
Join this beginner friendly class to learn how to make these festive Christmas decorated cookies from scratch to packaging! Don't miss it!

Contact @sweet_sensations_cookies if interested in her other workshop or just get some cookies!
2. Christms Gift Set
by Koyii and Boudelice
Christmas is the season of joy, of gift-giving, and of families united.

Can't decide to get accesseries or dessert? why not get both.
Check out @koyiiofficial & @bouldelice collaboration on this wonderful 𝗖𝗵𝗿𝗶𝘀𝘁𝗺𝗮𝘀 𝗚𝗶𝗳𝘁 𝗦𝗲𝘁!
Christmas Gift Set
• 1pc Polymer Clay Little Reindeer Keychain
• 2pcs Gingerbread Man Cookies • 2pcs Lemon Cookies
• 2pcs Matcha Cookies
• 2pcs Chocolate Chip Cookies
• 1pc Gift Card

It's the most magical & wonderful festive season, so DM @koyiiofficial now to get your hand on cute handmade Reindeer keychain and yummy cookies!
3. Polymer Clay Christms Tree DIY kit
by Tiny Pinc

@tinypinc 's 2022 🎄 Christmas DIY KIT is available for pre-order till 7th December 🎅

Polymer clay pieces are all baked. You just need to assemble and decorate your tree 🌲

Pre-order here at: www.tinypinc.com/shop or DM @tinypinc ❤️
4. Gingerbread House Cookie Kit
by Vilkadesignbaked
Xmas is a time of joy, love and cheer, and best celebrated with family and loved ones. The lights, music and atmosphere just adds up to the fun of this time of the year!

@vilkadesignerbaked gingerbread house kit will be perfect for this holiday. A kit for building a tasty gingerbread house that will be the centerpiece for the dinner table. The time just flies by when you are having fun constructing the gingerbread house and decorating it with an assortment of candy, a perfect bonding activity for the family❤️

DM @vilkadesignerbaked and pre order now before its too late!
5. PYO Christmas Theme Cookie Set
by Poppy Jiunn
☃️This year @poppy_jiunn is introducing Paint Your Own (PYO) cookies for kids to have fun during gathering and what is fun is after they paint they can EAT it😁

🎨Consists of 3 pcs of outlined icing cookies (about 7cm x 7cm size)
🎨3 mini paint brushes

⛄️RM 2x/ set
⛄️West Malaysia postage RM8, East Malaysia postage RM 18

👉Limited stock available, so buzz @poppy_jiunn and team ASAP at 016-671 8333 to grab yours.
6.Christmas Theme Earrings
by Personally Yours
Spread joy and love, it's the Christmas season! Let's jolly up this season with our handcrafted jewelries. Hop on the Santa's sledge and get some shopping done @personally.yours.my ! 🥳🥳
7.Homemade Christmas Icing Cookies Box
by Ting My Cake
@tingmycake_ is offering adorable homemade Christmas icing cookies box this year! Pre order before 18th December to enjoy early bird price!

A box with 5pcs Cookies
• Gingerbreadman
• Reindeer
• Present
• Snowman
• Socks with name

Collection: 23-25th December
Location: Sitiawan Perak
Last order: 22nd December

Contact @tingmycake_ to order 🍪
8.Christmas Cakes and Cookies
by Little Sweet
Celebrate this festive season with @little_sweet20 adorable Christmas cakes and cookies!
DM @little_sweet20 or whatsapp 0165235746 to order yours today!
9.Christmas Decorated Cookies
by Maelynns Bakering Corner


So many Christmas decorated cookies options from @maelynns_bakering_corner 🤩 Order now and enjoy them with your friends and family!
10.Christmas Bake Goods Gift set
by Heycookies

@heycookies.my is offering few Christmas gift sets this year including decorated cookies and more. They come in pretty festive packaging too, perfect for the holiday season! 🤩

Check out more info to order here:
mignonedibleart.orderla.my/mignon-edible-art
11.Christmas Festive Treats
by French Crullers Paris
Still looking for some festive treats this Christmas? Check out @french_crullers_paris adorable Christmas theme icing cookies, pineapple tarts, cakesicles and so much more!

Head over to @french_crullers_paris to have a look at their full Christmas treats menu 🥰
12. Online Christmas Theme Icing Cookies Workshop
by My Delicious Art

Learn how to decorate 🎄Christmas theme icing cookies design with teacher Elaine @my_delicious_cookies_art this holiday season via her online recorded workshop!

This Christmas cookies online recorded workshop includes 6 different designs, 3 ways to make royal icing, tips and tricks on decorating cookies using royal icing and many more! 🤩

Contact Elaine @my_delicious_cookies_art or WhatsApp 012 2818968 for more info!
---
Related products